As Hunter S. Thompson put it so well;
"Life shouldn't be a journey to the grave with the intention of arriving safely in a pretty and well preserved body, but rather to skid in broadside in a cloud of smoke, thoroughly used up, totally worn out and loudly proclaiming what a ride!"
Uplifting story of adversity, humour
and determination...
Some people search in horoscopes or take up yoga to find themselves. Or go sailing around the world until the money runs out in order to discover themselves. Forget that, find a ruin of a building or better still a fresh plot of land a build a home. We can cook, eat and sleep but to the self-builder but the home serves to remind you that you're capable of more than you think.
You are capable of more than you think.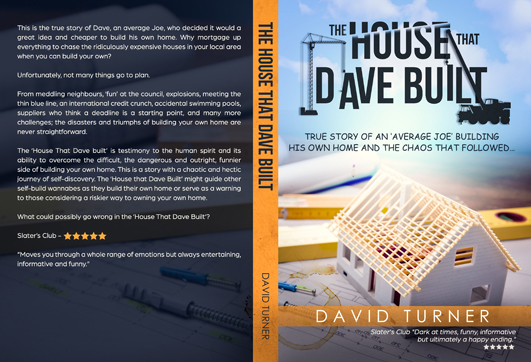 A challenge in life...
"I suppose it is tempting, if the only tool you have is a hammer to treat everything like a nail. Solving a situation with a known answer is like climbing a mountain with a guide book but the best way to deal with a problem you are unsure about is to think about, have a break and use a different level of thinking above the one that caused the problem."
C.S.Lewis, from his novel – 'Great Divorce', 1945.

When you have an old building there more challenges than simply starting a new build on a fresh canvas in an empty building plot of land. Problem solving and creativity is key. You're going to doubt me but you'll find lots of challenges when you're building and you need to step back and use the old hackneyed phrase 'Think outside the box'.
Would you copy me..?
"Building your own home is about desire, fantasy. But it's achievable; anyone can do it."
Kevin McCloud, May 2014

No it's not Kev.
I'd rather swim in shark infested waters on a holiday with no travel insurance, with both my hands tied behind my back and with the juiciest piece of tuna Captain Birdseye could find in my mouth.  Or eat a try of chocolate brownies, then discover they were stool samples, collected from the dog for the vet.

Or play lucky dip with a bag of... well, I think you get the idea... 
But maybe...just maybe.. Read my book and find out.